Testimonials
---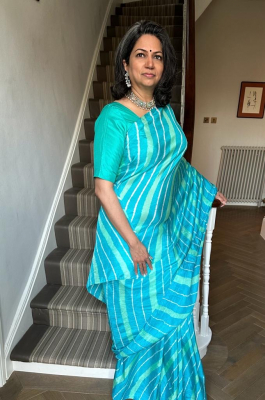 "Sarees and Malavika are synonymous, she operates under the name Omnah but is my saree guru. Having worn sarees since college days, I am hooked. But I am falling in love with them as I understand the difference between materials and the affect a weave takes on a pattern. I had never worn a cotton saree before a Ponduru cotton appeared and I saw the raw effect of something hand spun. It was epic for me. She has become my personal shopper when it come to sarees. She has a spiritual connection with them, I feel. Each one is chosen for that reason. I just hope she posts a dozen of every kind instead of 4-6 everytime and for that reason I pray people understand her connection with them. Bought this saree for my Bhabhi but had to borrow it once she wore it! That's the kind of temptation I feel to buy her sarees. Great taste, Keep it up dear!! Even in London wearing these sarees feels like I picked them in India myself. "
Shefali B
London, United Kingdom
19 Feb, 2023
"It's a pleasure to shop at Omnah. One of the most trustworthy online shopping places for saree. Malavika's collection of various weaves is unique and exquisite. Can't thank you enough for your support and help through out the buying process. Looking forward to adding more from Omnah. "
Mousumi Mutsuddi
Professor, Varanasi, India
13 Nov, 2022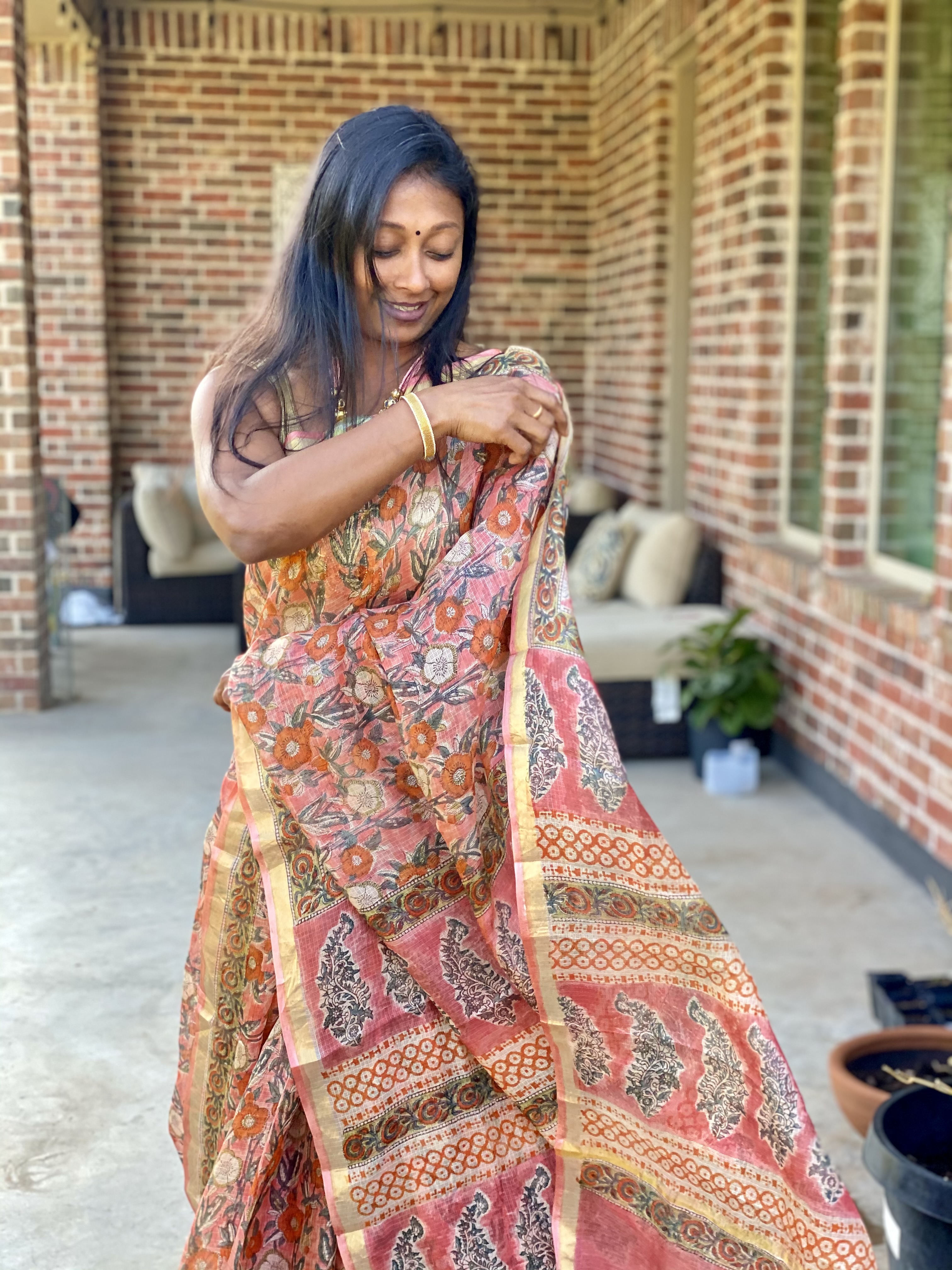 "I live in Texas and I have recently started learning about the various weaves in sarees, dyes, handloom and all about the background of a saree that we see in the pictures. Omnah by Malavika was a brand I chanced upon on the internet (Instagram). I was struck by the beauty of the sarees and the colors, designs and the knowledge that Malavika offers when you converse with her. She is always patient and effusive in her interactions and offers insightful information. She was also able to assist me with falls and pico and mailed the finished saree to my tailor! I love that she uses azo free dyes and her curations are bold, beautiful and very very aesthetic. "
Shoba K
United States
22 Jun, 2021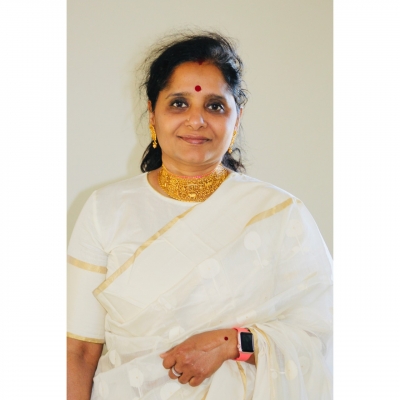 "As a huge collector (hoarder) of Indian textiles, especially sarees, my main option is online shopping, as i live in Texas. I must say I have mastered the art of collecting, thanks to curators like Malavika. I chanced upon Malavika's Instagram page @omnah_by_malavika a few years ago, and the first thing that amazed me about the brand, is the clarity and the details provided. Each post mentions details about the saree - price, handloom or not, down to the T. This way there is respect for everyone's time, and absolutely no back and forth. The whole process, from handling of various logistics, payment and shipping, is so transparent and worry-free, especially for someone like me, who is interacting virtually. I own a few sarees from Omnah, have loved their Ponduru pairings, Kanjivarams and Chanderis, being most favorite. I am very happy to say that Malavika is a now a good friend, and I hope to meet her next time I am visiting home. Malavika, big hug and all the very best for your website launch. While I agree website is hassle free for all of us, I would still love you to post and interact on Instagram, so that we can still have the warmth going on. My vision for Omnah is that they continue to source all weaves and embroidery work, and go bold on curating exclusive pieces. All the very best! "
Shanti S
United States
28 May, 2021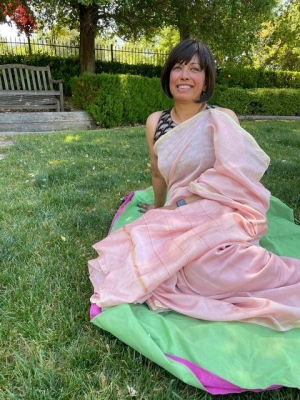 "Omnah has a diverse collection of beautiful weaves and the quality of the sarees are excellent. Malavika makes the entire process, from booking the saree to shipping, seamless and smooth. I enjoy working with her and appreciate all my purchases from Omnah. "
Anu P
United States
27 May, 2021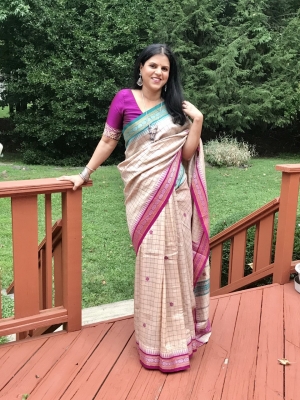 "Omnah by Malavika is one of my favorite saree brands! They have some of the prettiest handlooms - from Kanjivarams to Ponduru khadis. When you are shopping online, having thorough descriptions, with every little detail clearly written, makes it an easy decision for the buyer. I can count on Omnah to not just provide all the details, but make every step of the process of buying seamless. I've never been disappointed with any of my Omnah purchases and it's always a joy to open a package from Omnah. "
Aparna M
United States
20 May, 2021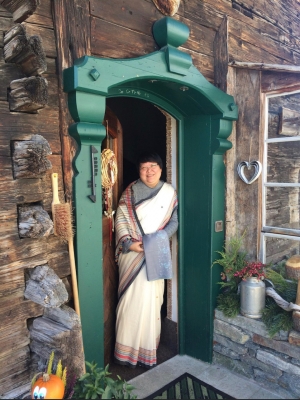 "It all started with the search for a Bhujodi saree, Omnah had them. Then to have them send over to Germany, it was made possible and additionally wanting it delivered before a trip was to be undertaken, that wish too was very well looked after. This is how the evolution of my ties with Omnah began. And little by little before I knew I was turning to Omnah for various occasions. I found the platform providing me my choices and most importantly the combination of such cordial friendly service and understanding of one's situation. Omnah has walked with us to find solutions for the difficult courier rules and regulations in Germany. I couldn't have asked for more. It's an association which Omnah has beautifully tended. "
Romita L
Germany
02 May, 2021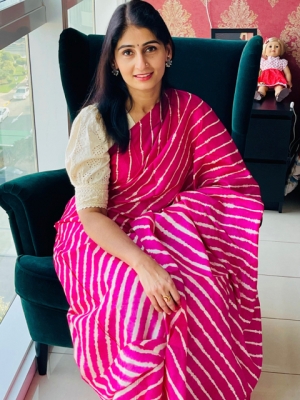 "It's really a pleasure to shop from Omnah, it's a trustable site for online shopping. I have had 3 purchases from Malavika, have always received my packages on time and service provided is awesome. "
Rakhi A
United Arab Emirates
23 Apr, 2021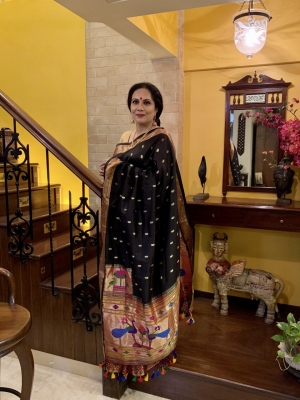 "Omnah is one of my favourite brands to shop, where I find very nicely curated saris. I like the way the saris are packaged, the service is great! Would definitely recommend shopping at Omnah. Keep up the good work, Malavika! "
Nivedita K
Mumbai, India
23 Apr, 2021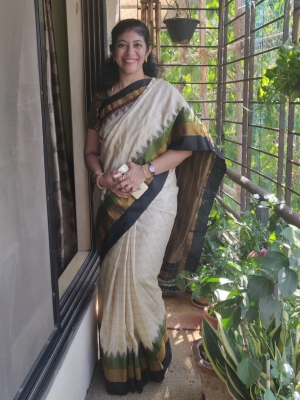 "Malavika has an eye for the unusual and the truly exquisite. Omnah, her website, where she curates handlooms and hand crafted totally reflects that! This Gadwal that I am wearing is one of the many unique weaves I have been privileged to order from her. Her authenticity and quality is something to blindly trust. When authenticity is accompanied by impeccable customer service and spot-on advice on pairings be it blouses or accessories, the entire buying experience is one , which one wants to repeat again and again. Thank you Malavika for taking your passion and creating Omnah and spreading such joy amongst all of us delighted customers. "
Nandini V
Mumbai, India
17 Apr, 2021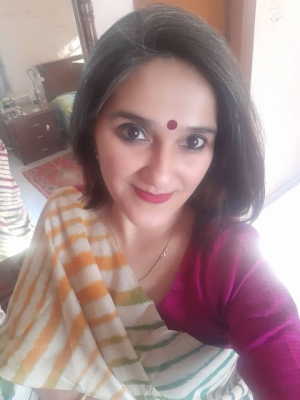 "I chanced upon Malavika's page Omnah a few years back and I was hooked on to the sarees she especially curates and displays. Incidentally, you have to be really quick and lucky to get your hands on them, they sell out like hotcakes. Her Fri-Yay sales were much-anticipated events on FB for me. All her sarees are carefully selected and everything about them is unique the color combination, the weave the design, and patterns. She's always meticulous and prompt about letting you know the details of the saree, which is quite rare on many of the online sites. I have loved each and every saree I bought from Omnah and all of them have drawn sighs of admiration and turned heads. Not to forget the thoughtful gift that Malavika sends with the sarees. "
Dr Rima M
Pune, India
17 Apr, 2021